So glad you have taken the time to visit our Youth Ministry page. Here at Libertyville Covenant Church we are committed to helping students understand that they are loved by God, saved by Christ, and called to live a new life in a broken and hurting world. We are committed to creating space for students to ask questions that they are wrestling with: Who am I? Do I have value? Can you be trusted? Who is God? What purpose might God have for my life? As a ministry we are committed to study and application of God's word, developing knowledge and application of the Christian faith, developing a relentless trust in Christ and a conscious dependence on the Holy Spirit.
UPCOMING EVENTS for our Middle School and Senior High (scroll down for details)
8/26 End of Summer Pool Party (Jr. and Sr. High)
8/31 All Church Bon Fire with S'mores
9/11 Fall Kick off: 9:15 Sunday Bible Study
9/11 5:00 pm Senior High Youth Group
9/14 5:00 Wednesday Evenings/6:15 Junior High Youth Group
Please contact the office at office@libcov.org
MIDDLE SCHOOL WEEKLY SCHEDULE                                 
The School Year Schedule begins September 11th!!
Confirmation: Sundays (Grades 6-8) 9:00a-10:00a begins September 11th.
Sunday Mornings Middle School students are welcome to join Pastor Steve Larson and Jim Pas for confirmation/Sunday school. Come at any time and enjoy the journey of faith to foster a deep and abiding relationship with Father, Son, and Holy Spirit by encouraging participants to begin, or intentionally continue, a life-long journey as Christ's disciple.
THE JOURNEY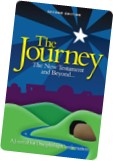 The focus of The Journey curriculum used is twofold. First, students have an opportunity to learn the truths of the Christian faith, through the stories of the Bible, and through the ongoing work of the church. Second, students have an opportunity to develop discipling relationships with pastors, mentors and parents. The focus is not only to learn what the Bible says, but to commune with God through the Word and through mentoring relationships. Both are for the purpose of developing a growing relationship with Christ and helping students learn to articulate what they believe about the Bible's message, and how faith in Christ translates into living out God's will in the world.
Youth Group: Wednesdays (Grades 6-8) 6:30p-7:45p. Begins again on Wednesdays, September 14th!!
Beginning, September 21st Wednesday, we are bringing back Multigenerational Wednesday evenings.  We hope that you can join us for dinner from 5:30 to 6:15.  After dinner, youth group will begin at 6:30 and end at 7:45.  If unable to join for dinner, looking forward to seeing you at 6:30 for our youth group study and activities.  Please contact Pastor Paul or the office with any questions.
Middle School Summer Events
END OF SUMMER POOL PARTY
All youth ministry students grades 6-12 are invited to our end of the summer pool party Friday, August 26, from 5:00-7:30 p.m. We will meet at the Hawkinson's home so bring a suit, towel, and all the energy you can muster for an amazing pool party. Dinner will be provided. We will be eating together, meeting friends and youth leaders as we close out our summer together.
In June, our Jr. High and Youth Leaders packed meals for Feed My Starving Children followed by a meal at Culver's.  It was a great way to stay connected over the summer.  Each and every time we pack meals at Feed My Starving Children lives are impacted in a tangible and life changing way. That night we learned that nearly 1.4 million meals have been packed and sent along to those displaced by the conflict in Ukraine and so many other places that are in need. Our students continue to invite more and more friends to attend our youth ministry offerings and these same friends are then returning home asking to be more and more a part of LCC.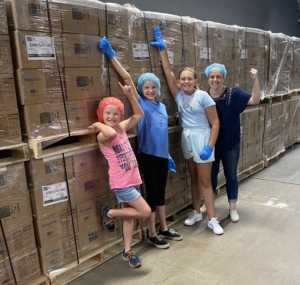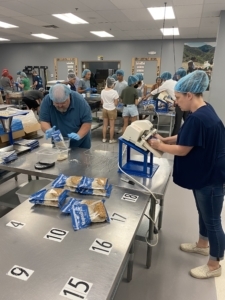 HIGH SCHOOL WEEKLY SCHEDULE                                        
Sunday School: Sundays (Grades 9-12) 9:15a-10:15a.  We begin again with Kick Off Sunday on September 11th!!
Senior High Youth Group: Sundays (Grades 9-12) 5:00p-7:00p  See you again on September 11th, if not before!
SENIOR HIGH SUMMER EVENTS
July: Gather at North Park University on July 9th, Saturday
If your summer is very busy and a four-day conference doesn't fit into your schedule, consider, "Gathering Together" will be held at North Park University as a one-day event on July 9th. This event is organized by the Central Conference of the Evangelical Covenant Church.  It will include two large worship gatherings, two service projects and a full day of fun, fellowship and food. The intention is for the central conference youth to gather together and discover what God is already doing in many ways, shapes and forms. All high school students are welcome to join us (entering 9th graders through graduating 12th graders). Cost is $35 per person.
Unite North Conference, July 14th thru 17th in Minnesota
There will be 11 students and 3 youth leaders attending this conference. UNITE North is a Covenant high school event gathering groups from across the northern US and Canada for worship, connection, and fun.
A conference filled with evening sessions with dynamic speakers and worship, experiential learning experiences on and off-campus that will stretch you and your faith, tournaments and events for athletes and non-athletes, small group discussion and personal reflection and much more.
This is where we hang out.