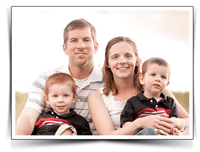 Libertyville Covenant will be celebrating an important day in June. It is the ordination of our Associate Pastor, Brian Zahasky.
Since Brian is so shy and modest, council thought we should interview him about his faith journey and his path to ordination. Brian's father and grandparents were heavily involved in the Catholic Church. Brian's mother was the daughter of a Methodist minister. Brian grew up in the Catholic traditions until he was 10 years old. At that time their whole family came to the Covenant Church.
If you know Brian, you know he loves Christian Camping. Brian's camping experience when he was a youth was a very influential time, and he is quick to relate the date he first gave his life to Christ at camp, June 11, 1989. Brian's call to ministry first revealed itself in high school. While on a mission trip to Mexico, he realized his calling was not to live just for himself, but to serve others. To this end, he started college at Bethel in St. Paul, Minnesota. It was here he solidified his call to go into ministry. Feeling somewhat isolated at Bethel, Brian transferred to North Park after 2 years. He majored in Biblical and Theological Studies, and Youth Ministry. His desire was to go into a camping or missions ministry. A formative time for Brian was his first year out of undergrad school at Camp Shamineau in Motley Minnesota.
What happened next was good fortune for LCC and another example of how the Lord works in mysterious ways. In 2003 Brian decided to start his Master of Divinity schooling at Trinity Evangelical Divinity School. At this same time Dane Anderson was our Youth Pastor. Dane and Brian were classmates and friends. When Dane felt called to a different opportunity, he immediately thought of Brian as his replacement. At first Brian said, "no!" After all, his calling was to camping and missions, right, not Youth Ministry? Someone must have been working on Brian, because after more thought Brian agreed to "hang out" at LCC for awhile while going to Trinity.
Well, hanging out grew into working full time at LCC and going to school fulltime. Brian graduated from Trinity in 2006 with his Masters of Divinity degree. After graduating Brian became our Associate Pastor.
So after all this schooling, why is Ordination the path Brian is taking? Brian describes it this way:
It is a recognition of my calling
It is a recognition and endorsement from the church
It is a recognition that the whole Body of Christ validates Brian's calling
It is a permanent seal and credential from the denomination
It is a landmark that Brian's calling is to serve the church
It is a process which refines, strengthens and reminds Brian of his commitment
The actual ordination process is quite rigorous. Brian had to pick up extra classes at North Park, one a year for 5 years. There is a mentoring relationship required, which Brian formed with Pastor Dwight and Pastor John Duball. Applicants for ordination have to write an ordination paper, which explains your own walk, a proper relationship with Christ, and Biblically pastoral approaches to important issues such as baptism and human sexuality. You have to do an interview with both the conference and the denomination. You are asked to rewrite and edit your paper if necessary. You give your testimony to the Ministerium at the conference level. After you have completed all these steps, the Ministerium votes you in.
In June Brian will be honored with his official pronouncement in front of the whole denomination in California. Brian feels there was great value in the process. It was uplifting to be in the learning community once again. There were many things to be learned about the Covenant. It is an honor to be a part of the Covenant family, a church that serves the world!
Brian wants to express his appreciation to our church. At the start of this process it was agreed we would help Brian with the cost of tuition. Libertyville took a risk and agreed. There were no guarantees that Brian would still be here 5 years later. Libertyville decided to invest in an individual with no guarantee of a return. Our trust was well placed. The church's gain will be immeasurable.
https://libcov.org/wp-content/uploads/2019/11/LCC-Logo2018-340-white-1.png
0
0
lcc-admin
https://libcov.org/wp-content/uploads/2019/11/LCC-Logo2018-340-white-1.png
lcc-admin
2012-07-05 18:57:16
2012-07-05 18:57:16
"Ordination"