From May Newsletter
Written by Caren Vollrath and Brian Zahasky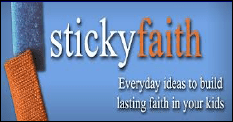 At first it seemed that Sticky Faith was about helping teens carry with them the faith of their childhood as they left the safety net of family & church for college and the beginning of independent life. As it is turning out, that's barely the beginning of an exciting adventure that has huge potential for strengthening our relationships with one another in the church and our relationship with Christ!
Without a doubt, parents are the greatest influence in their children's lives. Dozens of parenting books, Christian & secular point to this fact. That's easy to believe in the younger years of a child's life and becomes increasingly tested as children become tweens and teens. Likely the greatest influence a parent has is simply modeling their faith. "Ahh", you say,"that's not so simple." True, simple is not always easy. Collectively, the church, the body of Christ is our way to help each other grow deeper in faith and our relationship with Christ.
What if we could look beyond our stage in life and look for ways to encourage and build each other up as a whole body? I am often really uplifted when I have a conversation with someone who has already experienced a part of life that I am now going through. I am equally uplifted when I see emerging faith and love that our children and teenagers demonstrate. It makes me want more.
Intergenerational relationships are a key factor in Sticky Faith research. When the adult body welcomes students, knows them by name, values them and offers social support, the more likely their faith will stick. My own observations suggest that adult interactions with children and students energize and encourage them as well. We can learn so much from each other and enrich our faith in the process.
Here is a quick story that illustrates this point. On Easter morning Maria, Brian and Ben Palmberg put their heads together and decided to set aside the regularly scheduled Sunday school classes and designed an intentionally intergenerational Easter morning experience. It began with a chaotically beautiful Easter egg hunt in the sanctuary where adults and children were working in tandem to scour every nook and cranny to find their colored egg and decode the clues inside. Then while still in mixed teams of four, they watched a video together about the gift of the resurrection. The groups were then given conversational talking points to reflect on the significance of the resurrection in their own lives. What was most powerful and germane to the intergenerational focus was the learning and listening that took place during our time of sharing. Students like Olivia Pas (elementary) and Jared Wojcik (Jr. High) shared their insight alongside Hannah Barg (College) and Owen Youngman (Adult). This was the body of Christ growing together as the body of Christ and it was beautiful.
LCC has been steadily building upon a number of inter-generational events over the last few years. There are more to come. No matter what your age is or stage of life, be assured you are welcome. After all, you're family.
https://libcov.org/wp-content/uploads/2019/11/LCC-Logo2018-340-white-1.png
0
0
dfrost
https://libcov.org/wp-content/uploads/2019/11/LCC-Logo2018-340-white-1.png
dfrost
2013-04-30 12:53:24
2013-04-30 12:53:24
"Sticky Faith" and the Church