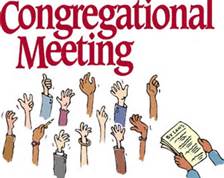 On Sunday the 28th, we had a congregational meeting to vote on a motion brought from church council.  The meeting was started by reciting our Behavioral Covenant statement in unison.
A not so brief update was given on the progress of our Search Committee.  Upon completion of our recent Pastoral Search survey, the committee is now ready to finish our on-line Church Profile.  This is an important last step before the matching process of church-to-pastor starts.
There were two motions from Council.  The first motion was to go to one service only, during our transition period. The main reason to cut back to one service is the effort required to continue with 2 services when our resources will start to be limited. The work load on the staff, the worship team, the pianist and organist, and the nursery workers is considerable. After discussion, the motion was unanimously passed.
The second motion was to propose two options as far as start times are concerned:
Option A was to start Sunday School at 9:15 and church service at 10:30
Option B was to start church services at 9:30 and Sunday School at 11:00
After discussion the vote was 47 to 21 in favor of Option A.  The new schedule will go into effect at the start of the school year.
https://libcov.org/wp-content/uploads/2019/11/LCC-Logo2018-340-white-1.png
0
0
dfrost
https://libcov.org/wp-content/uploads/2019/11/LCC-Logo2018-340-white-1.png
dfrost
2013-07-28 19:50:41
2013-07-28 19:50:41
Congregational Meeting Update